oct 1, 1946 - Ampex Tape Recorder
Description:
Ampex recorders are well known as some of the best built American professional reel tape recorders. After WWII, Jack T. Mullin, who was in the US Army Signal Corp, brought back to the US, 2 German Magnetaphon reel to reel magnetic tape recorders. Mullin took the two magnetaphons apart and shipped them back to the US in 18 boxes to comply with US war souvenir size requirements. Also include were 50 rolls of German magnetic tape. When Mullin arrived at his home in San Francisco he was happy to find the boxes had arrived safely. He decided to go to work with a friend William A. Palmer who had founded W.A Palmer & Co., a film production company in San Francisco in 1936. After tweaking electronics and converting the US tubes, the magnetophons were used to support Palmer's film business. The magnetic recorder was demonstrated at the MGM studios in Hollywood in October, 1946, gained a great deal of attention when they provided a stunningly clear recording of a studio performance by the MGM Symphony Orchestra. Following a number of presentations, Mullin and Palmer attracted Bing Crosby and his production team. Crosby had been frustrated by the poor end quality of disc editing for his radio program. After Mullin and Palmer demonstrated not only the ability to capture recording, but to edit the content with no loss of quality, Crosby and his team decided to adopt the technology. Mullin eventually became Crosby's Chief Engineer, using the two magnetophons and the 50 reels of german tape. He edited the Crosby shows splicing various tape pieces together as Corsby and his producers directed.
Added to timeline: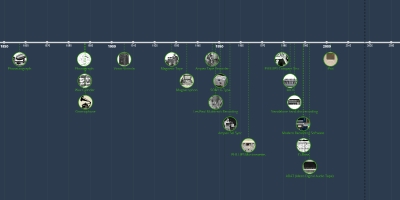 Unit 5: Music Technology in Context.
Date:
Images: