jan 1, 447 - Acropolis
Description:
Acropolis = High city, location of some of the most important building and temples of they city.
This is the most famous because Athens was the most powerful city-state at this time.
High classical moment - Inspired later achievements against the perfection of the Parthenon.
Parthenon is a doric temple, referring to it's columns. Mainly made out of marble..
Parthenon: Built on the Acropolis of Athens, masterminded by Perikles, it housed a gold and ivory Athena inside of it. Had three types of scultures, the frieze (low relief) that ran up the four sides of the building in colonnades, the metopes (high relief), that were on the same level as the friezes but were placed above the architraves surmounting the columns on the outside of the temple, and the pediment sculptures (carved in the round) filled triangular gables at the end. Christians made it into a church in the 17th century, Turks made it into a mosque and accidentally blew it up in 1687.
Helios, horses and Dionysus : Pediment = the triangle shape on the ancient greek temples. Shows Athena being born from her father zeus's head. Incorporates common Greek motifs.
Had temple of Athena Nike, Victory adjusting her sandal, and the plaque of Ergastines.
Added to timeline: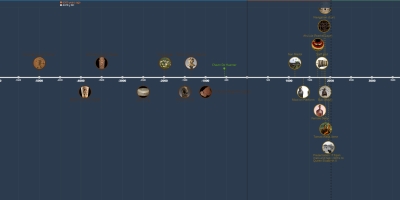 APAH Timeline
Date:
Images: