11h 6min, jan 25, 2018 y - Ship that took Russian fuel to North Korea hit by U.S. sanctions
Description:
The North Korean-flagged Kum Un San, as well as the company that owned it, Korea Kumunsan Shipping Co, were among six vessels, nine entities and sixteen individuals sanctioned on Wednesday by the U.S. Treasury Department.
"Treasury continues to systematically target individuals and entities financing the Kim (Jong-un) regime (in North Korea) and its weapons programs, including officials complicit in North Korean sanctions evasion schemes," U.S. Treasury Secretary Steven T. Mnuchin was quoted as saying in a statement announcing the new measures.
It left Vostochny on March 23 and, according to port documents, gave the port of Dalian in China as its next destination. But Reuters ship-tracking data soon detected the vessel near the North Korean port of Chongjin.
https://www.reuters.com/article/us-northkorea-missiles-russia/ship-that-took-russian-fuel-to-north-korea-hit-by-u-s-sanctions-idUSKBN1FE2D6
Added to timeline: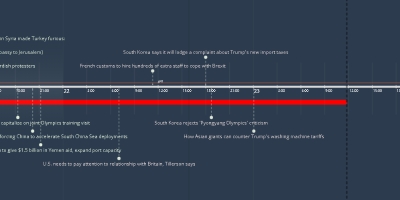 World Politics Time Line 2018
For more information, go to: http://visualtrackers.com/world...
Date: