23h 36min, jan 24, 2018 y - China to put Communist Party officials in charge of Tibetan Buddhist Monestery
Description:
Chinese officials are engaging in a "takeover" of one of the world's largest Tibetan Buddhist monasteries with a plan to put Communist Party officials in charge of its administration, Human Rights Watch (HRW) said on Wednesday.
The government is now splitting the center into two sections, an academy and a monastery, divided by a wall, according to an English-language translation of a document shared by HRW, which they said was received in August 2017.
The measures include quotas for recruitment, a management system of "real-name registration" and tags for monks and nuns, as well as placing 97 Communist Party cadres, who are required to be atheist, in top finance, security and admission roles.
"Chinese authorities are also imposing pervasive control and surveillance over every level of activity within religious communities," she said.
Chinese law promises freedom of religion but authorities keep a close eye on religious believers and institutions, especially in areas such as Tibet where faith is considered a potential challenge to Communist Party rule.
https://www.reuters.com/article/us-china-religion-rights/chinese-officials-engaged-in-takeover-of-tibetan-buddhist-monastery-human-rights-watch-idUSKBN1FE0BV
Added to timeline: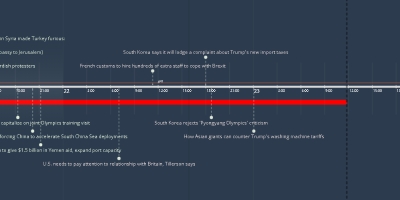 World Politics Time Line 2018
For more information, go to: http://visualtrackers.com/world...
Date: