2h 45min, jan 25, 2018 y - China says it agrees to joint tanker collision probe with Panama, Iran, Hong Kong
Description:
The maritime authorities of China, Panama, Iran and Hong Kong on Thursday signed an agreement to jointly investigate a collision in the East China Sea that caused the worst oil ship disaster in decades, according to China's Ministry of Transport.
The Sanchi, which was sailing from Iran to South Korea, carrying 136,000 tonnes of condensate, an ultra light crude, sank on Jan. 14 after drifting ablaze for more than a week. The ship's crew of 30 Iranians and two Bangladeshis are believed to have been killed.
The black boxes for the Sanchi and the CF Crystal have been opened, the Iranian Students' News Agency (ISNA) reported on Wednesday.
https://www.reuters.com/article/us-china-shipping-accident/china-says-it-agrees-to-joint-tanker-collision-probe-with-panama-iran-hong-kong-idUSKBN1FE0QL
Added to timeline: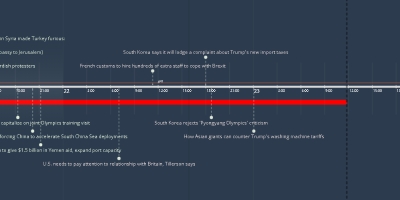 World Politics Time Line 2018
For more information, go to: http://visualtrackers.com/world...
Date: