4h 6min, jan 25, 2018 y - U.S. aircraft carrier to visit Vietnam in post-war first
Description:
In a post-war first, the United States is poised to send an aircraft carrier to Vietnam in March, officials of both sides said on Thursday, dramatic evidence of deepening military ties between them, more than four decades after the Vietnam War.
The announcement came during a two-day visit to Hanoi by U.S. Defense Secretary Jim Mattis that had been expected to focus on shared concerns about China.
The arrival of a U.S. aircraft carrier in Vietnam will be welcomed by an emerging network of countries that are nervously eyeing China's military rise, particularly its assertive stance and island-building activities in the South China Sea.
In particular, the militaries of U.S., Japan, India and Australia are working more closely together as a "quad" of liberal democracies across what they now term the "Indo-Pacific" – moves driven by mistrust of China.
U.S. Pacific Commander Admiral Harry Harris last week described China as a "disruptive transitional force in the Indo-Pacific" after meetings with Japanese and Indian military leaders in New Delhi.
India, Japan and Australia have all boosted military relations with Vietnam in recent years, with New Delhi providing advanced training for its emerging submarine forces and jet fighter pilots.
Although no U.S. aircraft carrier has been to Vietnam since the end of the war, other, smaller U.S. warships have made high-level visits as ties improved in recent years.
"It is a potent symbol of the way the defence relationship has moved forward against the backdrop of China's rising power," Storey added.
China's aggressive behaviour in the South China Sea, through which more than $3 trillion in cargo passes every year.
Vietnam has emerged as the most vocal opponent of China's territorial claims and has been buying U.S. military hardware, such as an armed, Hamilton-class Coast Guard cutter.
https://www.reuters.com/article/us-usa-vietnam-mattis-carrier/u-s-aircraft-carrier-to-visit-vietnam-in-post-war-first-idUSKBN1FE0XI
Added to timeline: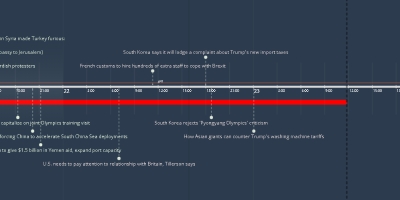 World Politics Time Line 2018
For more information, go to: http://visualtrackers.com/world...
Date: