17 h, jan 24, 2018 y - Four U.S. citizens killed in Jan. 20 attack on Kabul hotel
Description:
"Glenn was in Kabul on a potential success story involving Afghanistan and its steps to battle extremism. The focus was highlighting the country's new president and constructing a democracy forum event for Afghani women," Selig Multimedia said in a statement, according to CNN.
At least 20 people were killed when five gunman dressed in Afghan army uniforms stormed the Kabul hotel on Saturday night. Seven Ukrainians and one German were among the dead.
The Taliban, which attacked the same hotel in 2011, claimed responsibility for the attack, spokesman Zabihullah Mujahid said in a statement.
https://www.reuters.com/article/us-afghanistan-attacks-usa/four-u-s-citizens-killed-in-jan-20-attack-on-kabul-hotel-idUSKBN1FD344
Added to timeline: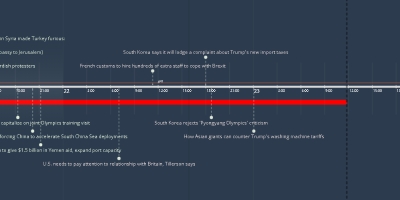 World Politics Time Line 2018
For more information, go to: http://visualtrackers.com/world...
Date: