9h 22min, jan 25, 2018 y - South Korea minister says military option 'unacceptable' on North Korea crisis
Description:
"I'm assured that anything the U.S. administration does on this front is done in close consultation with us," Kang said.
She declined to comment if Washington had given Seoul clear assurance but added: "This is our fate that is at stake. Any option that is to be taken on the Korean peninsula, cannot be implemented without us going along."
In an earlier interview with Reuters, Kang said South Korea was prepared for "all contingency scenarios" in case North Korea stages another weapons test, even as the two countries conduct talks and mutual visits relating to the Olympics.
Kim Jong Un's regime has also set a new anniversary to mark the formation of its military on Feb. 8 - the day before the start of the Games - and analysts say the nation may observe the day with a large military parade.
U.S. Vice President Mike Pence, who will represent the United States at the Olympics, said on Tuesday he would seek to counter what he described as an effort by North Korea to "hijack" the Games with a propaganda campaign.
Seoul has rejected that criticism, saying the Olympics will help defuse tensions over Pyongyang's nuclear and missile programmes.
"This is an opportunity for engagement and a peaceful engagement around the Olympic Games, and we just need to make the best of it," Kang said in the interview on Wednesday.
But she cautioned that sustained improvement in bilateral ties cannot take place apart from the nuclear issue: "There have to be advances on this front as well."
https://www.reuters.com/article/us-davos-meeting-southkorea-military/south-korea-minister-says-military-option-unacceptable-on-north-korea-crisis-idUSKBN1FE21K
Added to timeline: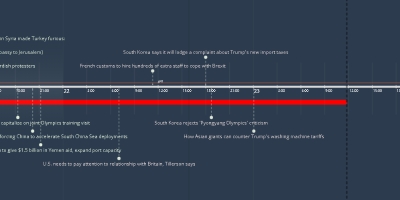 World Politics Time Line 2018
For more information, go to: http://visualtrackers.com/world...
Date: