22h 45min, jan 21, 2621 y BC - Standard of Ur
Description:
2600-2400 BCE
Shell, lapis lazuli, red limestone
Sumerian; Mesopotamia (Iraq)
The standard is a trapezoidal box that is covered with inlaid geometric designs and figures. Probably carried on a stick.
The two slides depicted war and peace. The images are shown in registers and king is evident by use of hierarchical scale. Shows the king as a ruler/warrior but also as in intermediary between people and gods.
Added to timeline: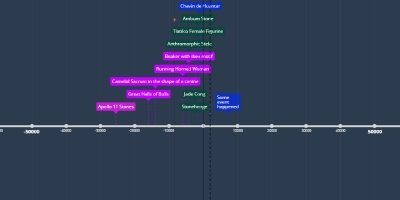 APAH
Date: