0h 36min, jul 1, 1647 y - Gottfried Wilhelm "binary"
Description:
Gottfried Wilhelm (von) Leibniz (/ˈlaɪbnɪts/; German: [ˈɡɔtfʁiːt ˈvɪlhɛlm fɔn ˈlaɪbnɪts] or [ˈlaɪpnɪts];[7] French: Godefroi Guillaume Leibnitz;[8] 1 July 1646 [O.S. 21 June] – 14 November 1716) was a German polymath and philosopher who occupies a prominent place in the history of mathematics and the history of philosophy, having developed differential and integral calculus independently of Isaac Newton.
The modern binary number system, the basis for binary code, was invented by Gottfried Leibniz in 1679 and appears in his article Explication de l'Arithmétique Binaire. The full title is translated into English as the "Explanation of the binary arithmetic", which uses only the characters 1 and 0, with some remarks on its usefulness, and on the light it throws on the ancient Chinese figures of Fu Xi.
https://en.wikipedia.org/wiki/Gottfried_Wilhelm_Leibniz
Added to timeline: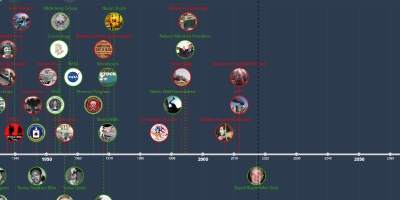 Life Through My Eyes in Time.
Trying to understand life around me in the times of now and ...
Date:
Images: