4h 19min, mar 20, 2017 y - David Rockefeller Died
Description:
David Rockefeller (June 12, 1915 – March 20, 2017) was an American banker who was chairman and chief executive of Chase Manhattan Corporation. He was the oldest living member of the Rockefeller family and family patriarch from August 2004[2] until his death in March 2017. Rockefeller was a son of John D. Rockefeller Jr. and Abby Aldrich Rockefeller, and a grandson of John D. Rockefeller and Laura Spelman Rockefeller.
He was noted for his wide-ranging political connections and foreign travel, in which he met with a range of foreign leaders. His fortune was estimated at $3.3 billion at the time of his death in March 2017.
https://en.wikipedia.org/wiki/David_Rockefeller
Added to timeline: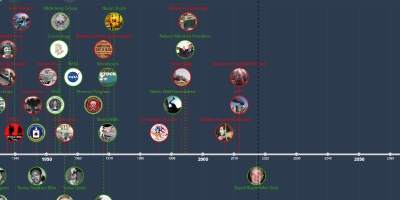 Life Through My Eyes in Time.
Trying to understand life around me in the times of now and ...
Date:
Images: