dec 1, 447 BC - Acropolis
Description:
447-410 BCE
Marble
Athens
Acropolis = high city, location of some of the most important buildings and temples of the city.
Parthenon - marble temple to the goddess Athena
High Classical Moment - inspired later achievements against the perfection of the Parthenon.
Parthenon is a doric temple referring to it's columns, but has ionic characteristics
West Pediment of Parthenon shows Athena battling Poseidon. They are vying for the honor to be the patron of the city.
East pediment of the Parthenon
Figures had to be designed to fit within the triangular space of the pediment.
Birth of Athena being born from the head of Zeus and the reaction of the other gods and goddesses.
Iktinos and Kallikrates were the architects. Used mathematics to create perfection through illusion by using subtle distortions.
Plaque of the Ergastines: Perhaps it represents the Pan-Athenaic Procession - Athenian citizens walked up the sacred pathway to the Parthenon. Frieze that wraps around the Parthenon.
Added to timeline: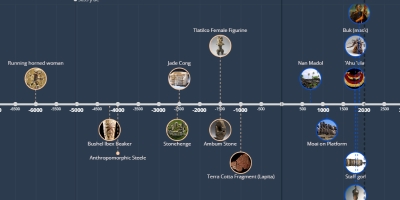 APAH timeline
Date:
Images: