jan 1, 1000 - Travelers Among Mountains and Streams
Description:
Incorporated the Chinese belief that mountains are sacred.
Was a masterpiece in landscape paintings by Fan Kuan. Fan Kuan was a recluse scholar like daoist who expressed his vision of the world with Travelers among Mountains and Streams. In this painting, Fan Kuan also shows depth with the large mountains being in the background, the boulders being part of the foreground, and etc. Neo confucianism mini course: They incorporated the ideas of yin and yang, believed in li, the thing people need to exist, and qi, the thing people need to be a person and such. Reflects Fan Kuan's understanding of the world and himself. Made out of ink, colors, silk, in China during the Song Dynasty.
Added to timeline: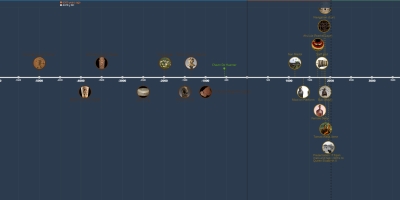 APAH Timeline
Date:
Images: