0h 2min, jan 23, 2018 y - How Asian giants can counter Trump's washing machine tariffs
Description:
While Mr Trump's first major trade move as president aims to protect the US$5.1 billion (S$6.7 billion) US washing machine market from cheaper competition from abroad, American shoppers may be among the most affected. Workers could also be hurt if foreign appliance makers scale back production plans in the United States.
The decision is a "great loss" for US workers and consumers, Samsung said on its website. The tariffs on washing machines is a tax and will make everyone pay more, it said. LG said in a statement the result hinders the ramp-up of its new plant and threatens new U.S. jobs. Representatives for Qingdao Haier and Midea did not respond to requests for a comment.
http://www.straitstimes.com/world/united-states/how-asian-giants-can-counter-trumps-washing-machine-tariffs
Added to timeline: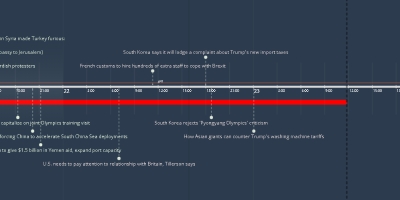 World Politics Time Line 2018
For more information, go to: http://visualtrackers.com/world...
Date: