18h 41min, jan 22, 2018 y - South Korea rejects 'Pyongyang Olympics' criticism
Description:
Seoul's presidential Blue House rejected criticism on Tuesday that next month's Winter Games had been hijacked by North Korea, saying the event will help defuse tensions over Pyongyang's nuclear and missile programs.
Some opposition politicians and conservatives in South Korea have criticized North Korea's participation in the Games to be held in the South Korean alpine resort town of Pyeongchang, dubbing them the "Pyongyang Olympics".
Some specific plans, however, including fielding a joint women's ice hockey team and marching under a united flag, have proven controversial, with conservatives and younger South Koreans upset that North Korean leader Kim Jong Un is stealing the spotlight.
The administration of South Korea's liberal president, Moon Jae-in, is under pressure over its offer to send athletes to a North Korean ski resort for joint training. Experts say the move risks giving Kim's regime legitimacy and some much needed cash.
"We will never tolerate hideous acts of the conservative hooligans who insulted the sacred dignity and symbol of the DPRK, and the dishonest behavior of the South Korean authorities who connived at such acts," said a spokesman of the organization via the official KCNA news agency on Tuesday.
https://www.reuters.com/article/us-olympics-2018-northkorea/south-korea-rejects-pyongyang-olympics-criticism-idUSKBN1FC07X
Added to timeline: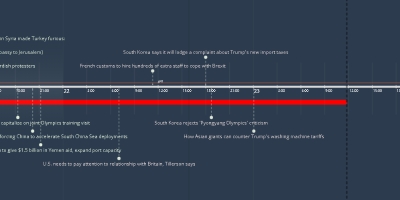 World Politics Time Line 2018
For more information, go to: http://visualtrackers.com/world...
Date: