7h 2min, jan 22, 2018 y - U.S. needs to pay attention to relationship with Britain, Tillerson says
Description:
Trump's cancellation of his trip has raised questions in Britain over the links between Washington and its closest traditional ally in Europe -- widely called the "special relationship".
"We treasure this relationship, and I treasure Boris's relationship with me personally and the work that we do together on these many issues," Tillerson told reporters.
"Sometimes we forget about the importance of our own relationship," he said. "We need to pay attention to that relationship and the importance of this relationship on a bilateral basis as well."
A pillar of Britain's foreign policy for a century, the special relationship with Washington has taken on added importance as Britain prepares to leave the European Union in 2019.
While in London, Tillerson visited the new $1 billion U.S. embassy. Trump earlier this month criticized the move to new diplomatic premises as part of a bad deal agreed by the administration of Barack Obama.
https://www.reuters.com/article/us-usa-britain-tillerson/u-s-needs-to-pay-attention-to-relationship-with-britain-tillerson-says-idUSKBN1FB1I6
Added to timeline: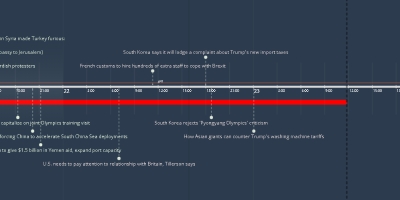 World Politics Time Line 2018
For more information, go to: http://visualtrackers.com/world...
Date: