feb 27, 1864 - Wade-Davis Plan
Description:
it was Congress' alternative to Lincoln's 10% Plan, it required a majority of voters in a southern state to take a loyalty oath and guarantee black equality. It also required the repudiation of the Confederate debt. It was much harsher than Lincoln's plan and he pocket vetoed it (ignored it).
Added to timeline: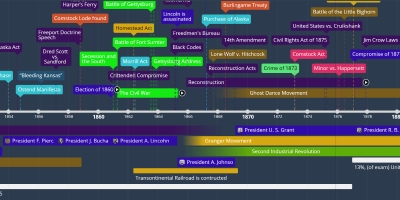 APUSH
Timeline for anyone taking AP US History. Its really importa...
Date: