apr 20, 1865 - Lincoln is assasinated
Description:
Lincoln is dead before he can help the country recover from the civil war. Johnson (who ends up giving horrible leadership at America's time of need) becomes president.
Lincoln never enacts his 10% Plan, which was his reconstruction plan for after the Civil War. Written in 1863, it proclaimed that a state could be reintegrated into the Union when 10% of its voters in the 1860 election pledged their allegiance to the U.S. and pledged to abide by emancipation, and then formally erect their state governments. This plan was very lenient to the South, would have meant an easy reconstruction.
Added to timeline: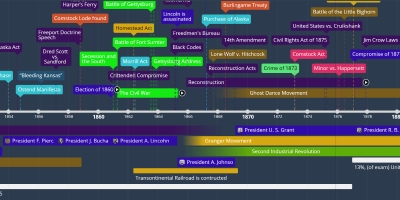 APUSH
Timeline for anyone taking AP US History. Its really importa...
Date: