apr 19, 1775 - Lexington and Concord
Description:
The British were told by some loyal colonist that there were Colonist storing guns in Concord. The British go and march to Concord as a surprise, but they are spotted by Paul Revere, William Dawes and Samuel Prescott, who go to warn everyone what is happening. The fight that occurs in Lexington was a fight only meant to hold off the British/Stall them and was fought by minute men. A majority of the men were killed. While this occurs, Patriots gather the guns in Concord and stock them up and take them out.
Added to timeline: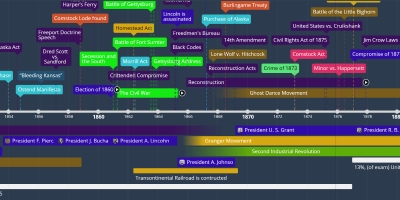 APUSH
Timeline for anyone taking AP US History. Its really importa...
Date: