aug 9, 1854 - Kansas-Nebraska Act
Description:
a compromise law in 1854 that suspended the Missouri Compromise and left it to voters in Kansas and Nebraska to determine whether they would be slave or free states. the law exacerbated sectional tensions when voters can to blows over the question of slavery in Kansas. It was very controversial, supported by President Pierce and not supported by Douglass.
Added to timeline: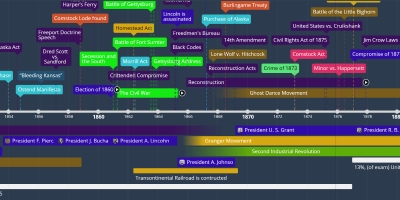 APUSH
Timeline for anyone taking AP US History. Its really importa...
Date: