mar 11, 221 - Terracotta warriors
Description:
Painted terra cotta
Qin Dynasty
Qin Shihuang was the first emperor of China.
Accomplishments:
Standardization of Currency
Standardization of Writing
Standardization of Measurements
Connected roads and canals
Continued construction of Great Wall
Military genius
First assembly line production
Unification of China
Strange findings in the mausoleum: gemstones to represent stars and cosmos and high levels of mercury that would have been in troughs that represented the rivers and seas.
Each warrior is individualized.
Enormous numbers of laborers and artisans
Said that emperor feared that the knowledge of his treasures of his tomb would be shared, so after sealing the up the treasures; he closed the middle and outer gate so artisans could not leave.
Added to timeline: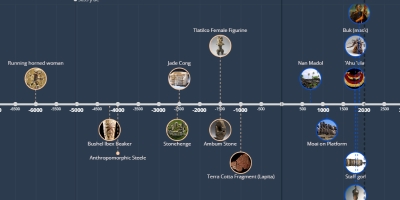 APAH timeline
Date:
Images: