11h 39min, jan 21, 2018 y - Turkish police use pepper spray against pro-Kurdish protesters
Description:
Turkish police used pepper gas to disperse pro-Kurdish protesters in Ankara and Istanbul on Sunday, detaining at least 12 people in Istanbul, Reuters witnesses said.
The protesters were demonstrating against the Turkish military's operation against a U.S.-backed Kurdish militia in Syria's northern Afrin province.
Turkish President Tayyip Erdogan had earlier warned supporters of the pro-Kurdish opposition not to protest the military's operation, saying security forces would intervene if they demonstrated.
https://www.reuters.com/article/us-mideast-crisis-syria-turkey-protests/turkish-police-use-pepper-spray-against-pro-kurdish-protesters-idUSKBN1FA0VG
Added to timeline: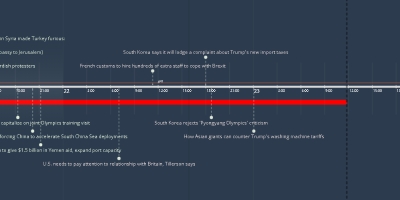 World Politics Time Line 2018
For more information, go to: http://visualtrackers.com/world...
Date: