10h 36min, jan 20, 2018 y - Paris, London and Berlin will present a package of measures to the United State
Description:
The gathering in Brussels may even have reinforced the U.S. president's antipathy, according to three U.S. officials involved in the discussions.
Trump instead gave the European allies, Britain, France, Germany, and the U.S. Congress 120 days to come up with a tougher approach on Tehran or see U.S. sanctions reimposed, they said.
https://www.reuters.com/article/us-iran-nuclear-eu-usa/spurned-by-trump-europeans-ponder-how-to-meet-iran-ultimatum-idUSKBN1FA0S4
Added to timeline: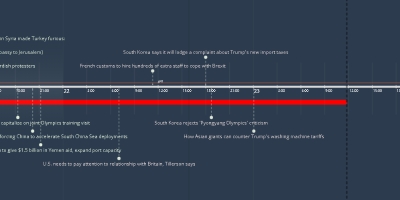 World Politics Time Line 2018
For more information, go to: http://visualtrackers.com/world...
Date: