18h 17min, jan 21, 2018 y - Ski lift: North Korea may capitalize on joint Olympics training visit
Description:
Already facing criticism for plans to march under a unity flag and field a combined Korean ice hockey team, the administration of South Korean President Moon Jae-in may come under further pressure if it is seen to be endorsing Kim's luxury getaway on North Korea's east coast.
"The idea of joint training could be used as a propaganda tool to rationalize how far-sighted Kim Jong Un was in making what was actually an anachronistic decision to build the ski resort at a time when ordinary citizens are starving to death", said Kim Sung-han, a former South Korean vice foreign minister.
But the resort has been criticized by former South Korean officials as an emblem of the Swiss-educated leader diverting scarce resources to satisfy his own lavish lifestyle while average North Koreans suffer.
"We're aware that there is some view that we may dilute sanctions by offering financial support to the North Korean delegation", ministry spokeswoman Lee Eugene told a news briefing on Friday.
"Our position remains unchanged that we will continue global cooperation on sanctions and pressure ... and we will make sure there will be no problem by consulting closely with the international community and the U.N. expert panel".
https://www.reuters.com/article/us-olympics-2018-northkorea-resort/ski-lift-north-korea-may-capitalize-on-joint-olympics-training-visit-idUSKBN1FA17E
Added to timeline: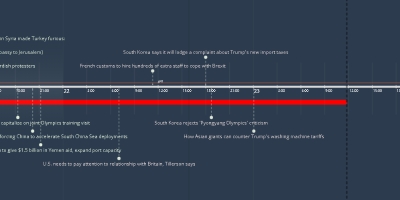 World Politics Time Line 2018
For more information, go to: http://visualtrackers.com/world...
Date: