21h 10min, jan 21, 2018 y - Saudi-led coalition to give $1.5 billion in Yemen aid, expand port capacity
Description:
The U.S.-backed alliance, which also includes the United Arab Emirates, said in a statement it would operate an air bridge to Marib, set up 17 overland corridors for aid deliveries and lead the expansion of additional Yemeni ports to receive humanitarian and essential cargo.
"We are backing a professionally planned and detailed humanitarian mission with military power and precision to guarantee that the humanitarian aid reaches the people who need it to lift their suffering," said spokesman Colonel Turki al-Maliki.
An accompanying graphic suggested that overland delivery routes would extend into northern territory held by the armed Houthi movement, which is fighting the government of President Abd-Rabbu Mansour Hadi based in the south.
Monday's announcement comes as Saudi Arabia and its allies face mounting criticism - including from U.S. and European partners - over the civilian toll of the conflict, in which more than 10,000 people have been killed by coalition air strikes and fighting on the ground.
The coalition, under international pressure, eased a three-week blockade imposed on Yemeni ports and airports in November in response to a ballistic missile fired by the Houthis toward the Saudi capital Riyadh.
U.S. President Donald Trump last month called for Saudi Arabia to immediately allow humanitarian aid to reach the Yemeni people, suggesting Washington had run out of patience with the blockade.
The war's heavy toll on civilians has long been a sore point with members of Congress, triggering threats to block U.S. assistance to the coalition including refueling of jets and limited intelligence support.
https://www.reuters.com/article/us-yemen-aid-saudi/saudi-led-coalition-to-give-1-5-billion-in-yemen-aid-expand-port-capacity-idUSKBN1FB00K
Added to timeline: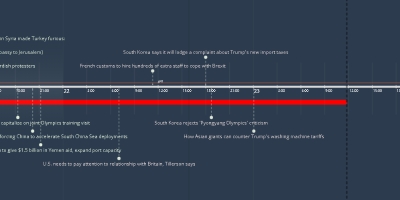 World Politics Time Line 2018
For more information, go to: http://visualtrackers.com/world...
Date: