2h 51min, jan 20, 2018 y - China says U.S. warship violated its South China Sea sovereignty
Description:
Two U.S. officials confirmed that the USS Hopper had sailed within 12 nautical miles of Scarborough Shoal, a rocky outcrop and prime fishing spot due to its bountiful catches and calm waters.
With a permanent presence of large coastguard vessels, China blockaded the Scarborough Shoal for more than four years but ended that in October 2016 at the request of Philippine President Rodrigo Duterte, who said Filipino fishermen were suffering.
The U.S. officials, who spoke on condition of anonymity, said the patrol was in line with international law and was an "innocent passage," in which a warship effectively recognizes a territorial sea by crossing it quickly, without stopping.
Twelve nautical miles is an internationally recognized territorial limit.
Though located within the Philippines' 200 nautical mile Exclusive Economic Zone, an international tribunal in 2016 ruled that the Scarborough Shoal is a traditional fishing ground that no one country has sole rights to exploit.
The U.S. military says it carries out "freedom of navigation" operations throughout the world, including in areas claimed by allies, and that they are separate from political considerations.
The Pentagon did not directly comment on the latest patrol but said such operations are routine.
The U.S. military put countering China and Russia at the center of a new national defense strategy unveiled on Friday. China criticized the strategy, saying Beijing sought "global partnership, not global dominance."
https://www.reuters.com/article/us-china-us-sovereignty/china-says-u-s-warship-violated-its-south-china-sea-sovereignty-idUSKBN1F9088
Added to timeline: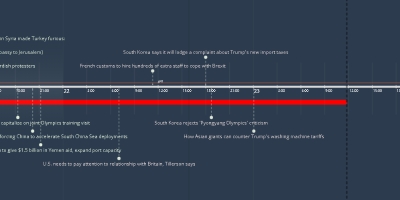 World Politics Time Line 2018
For more information, go to: http://visualtrackers.com/world...
Date: