5h 20min, jan 18, 2018 y - 'Pyongyang Olympics?' Backlash reveals changing attitudes in South Korea
Description:
An agreement between South and North Korea to march under a unity flag and field a joint ice hockey team at next month's Olympics was met by sharp criticism from many in the South on Thursday, highlighting changing attitudes toward the country's northern neighbor.
https://www.reuters.com/article/us-olympics-2018-northkorea/pyongyang-olympics-backlash-reveals-changing-attitudes-in-south-korea-idUSKBN1F716G
Added to timeline: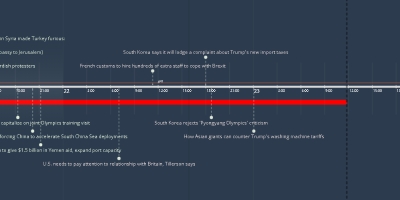 World Politics Time Line 2018
For more information, go to: http://visualtrackers.com/world...
Date: