jan 17, 2018 - North Korean nuclear weapons crisis at 'tenuous stage,' Rex Tillerson says
Description:
US Secretary of State Rex Tillerson has warned that the crisis over North Korea's nuclear weapons is at a "tenuous stage" and said the time for Pyongyang to show a willingness to talk about denuclearisation is now.
"The North Koreans know our channels are open, and they know where to find us," Tillerson told reporters in a news conference at the conclusion of a summit of 20 countries seeking ways to strengthen UN sanctions.
"I think we all need to be very sober and clear-eyed about the current situation," he replied, citing North Korea's advances in developing nuclear weapons and the missiles capable of delivering them. "We have to recognise that the threat is growing. And if North Korea does not choose the path of engagement, of discussion, negotiations, then they themselves will trigger an option."
British Foreign Secretary Boris Johnson deflected a reporter's question about the impact of Trump's tweets directed at Kim, such as a recent one proclaiming his "nuclear button" bigger than the North Korean leader's and another advising Tillerson that he was wasting his time trying to get North Korea to negotiate.
"There's a diplomatic way to do that," Johnson said. "Rex Tillerson gets it."
"We reject a 'freeze for freeze' approach in which legitimate defensive military exercises are placed on the same level of equivalency as the DPRK's unlawful actions," he said, using the initials for North Korea's official name, the Democratic People's Republic of Korea. "The pressure campaign will continue until North Korea takes decisive steps to denuclearise."
http://www.independent.co.uk/news/world/americas/north-korea-crisis-latest-rex-tillerson-warning-tenuous-nuclear-weapons-sanction-vancouver-summit-a8164106.html
Added to timeline: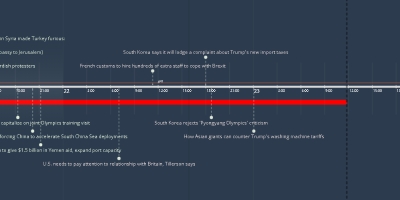 World Politics Time Line 2018
For more information, go to: http://visualtrackers.com/world...
Date: