15h 57min, jan 17, 2018 y - Tillerson says evidence sanctions 'really starting to hurt' North Korea
Description:
U.S. Secretary of State Rex Tillerson said on Wednesday the United States was getting a lot of evidence that international sanctions were "really starting to hurt" North Korea, and praised China for its efforts in putting pressure on Pyongyang.
Tillerson added that he was confident the pressure would eventually bring North Korea to the negotiating table over its nuclear and missile programs.
He said Japan told a conference on North Korea in Vancouver on Tuesday that more than 100 North Korean fishing boats had drifted into its waters and two-thirds of those aboard them had died.
https://www.reuters.com/article/us-northkorea-missiles-tillerson/tillerson-says-evidence-sanctions-really-starting-to-hurt-north-korea-idUSKBN1F62UV
Added to timeline: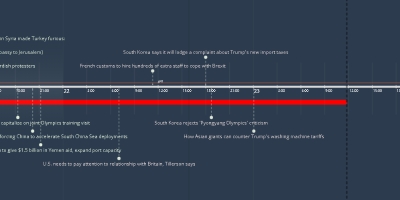 World Politics Time Line 2018
For more information, go to: http://visualtrackers.com/world...
Date: