14h 4min, jan 17, 2018 y - Trump says Russia helping North Korea skirt sanctions;
Description:
"Russia is not helping us at all with North Korea," Trump said during an Oval Office interview with Reuters. "What China is helping us with, Russia is denting. In other words, Russia is making up for some of what China is doing."
"I'd sit down, but I'm not sure that sitting down will solve the problem," he said, noting that past negotiations with the North Koreans by his predecessors had failed to rein in North Korea's nuclear and missile programs.
He blamed his three immediate predecessors, Bill Clinton, George W. Bush and Barack Obama, for failing to resolve the crisis and, a day after his doctor gave him a perfect score on a cognitive test, suggested he had the mental acuity to solve it.
Trump said he hoped the standoff with Pyongyang could be resolved "in a peaceful way, but it's very possible that it can't."
Trump and his economic adviser Gary Cohn, who was also in the Oval Office, said China had forced U.S. companies to transfer their intellectual property to China as a cost of doing business there.
The United States has started a trade investigation into the issue, and Cohn said the United States Trade Representative would be making recommendations about it soon.
"We have a very big intellectual property potential fine going, which is going to come out soon," Trump said in the interview.
Trump said the damages could be high, without elaborating on how the numbers were reached or how the costs would be imposed.
https://www.reuters.com/article/us-usa-trump-exclusive/exclusive-trump-says-russia-helping-north-korea-skirt-sanctions-pyongyang-getting-close-on-missile-idUSKBN1F62KO
Added to timeline: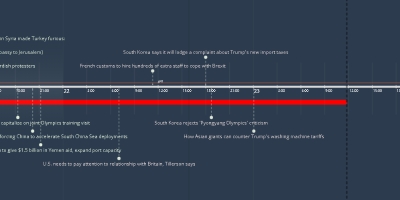 World Politics Time Line 2018
For more information, go to: http://visualtrackers.com/world...
Date: