13h 52min, jan 17, 2018 y - Juncker says would like Britain to rejoin EU after Brexit
Description:
EU chief executive Jean-Claude Juncker renewed an offer to Britain on Wednesday to stay in the European Union and said he hoped that even if it goes through with Brexit it would apply to rejoin the bloc.
Among those who have spoken of a willingness to help Britain stay or to rejoin have been French President Emmanuel Macron. Asked about the current debate, one of his advisers said on Wednesday that France would still welcome a change of heart.
"If tomorrow, or the day after, the United Kingdom decided to change its mind, it's clear that we would look at this with kindness," the adviser said. "But it's not up to us to say if the UK wants to change its mind."
https://www.reuters.com/article/uk-britain-eu-juncker/juncker-says-would-like-britain-to-rejoin-eu-after-brexit-idUSKBN1F60XK
Added to timeline: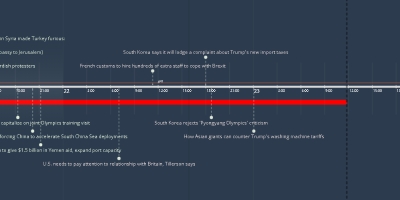 World Politics Time Line 2018
For more information, go to: http://visualtrackers.com/world...
Date: