10h 40min, jan 16, 2018 y - Netanyahu says Israel, India both face threat from radical Islam
Description:
Netanyahu spoke while on a six-day tour of India, the first by an Israeli premier for 15 years, and is being feted by Indian counterpart Narendra Modi, whose Hindu nationalist party has long admired Israel for its tough posture against terrorism.
India, wary of upsetting Arab nations on which it was dependent for oil, and heeding the sentiments of its own large Muslim minority, kept a distance from Israel for decades. But under Modi, the two sides have embraced a closer relationship based on security and economics.
The right-wing Netanyahu told a security conference that India and Israel were two democracies with a natural affinity, but their open and liberal societies faced risks.
https://www.reuters.com/article/us-india-israel/netanyahu-says-israel-india-both-face-threat-from-radical-islam-idUSKBN1F51Y7
Added to timeline: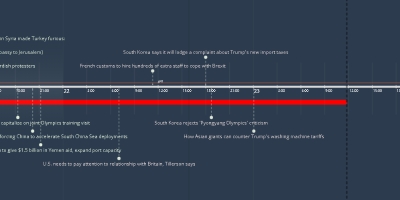 World Politics Time Line 2018
For more information, go to: http://visualtrackers.com/world...
Date: