0h 44min, dec 29, 1981 y - President Reagan signs amendment to Foreign Assistance Act of 1961
Description:
By signing the amendment, the President was required to "certify" that the Salvadoran government was making an honest effort to comply to human rights laws or all funding would be revoked. Many considered this to be a "political cop-out" for Congress. They were able to demonstrate that they were considering the human-rights problem while really nothing had changed.
Added to timeline: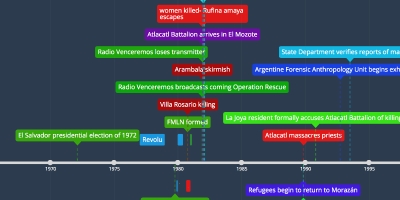 The Massacre at El Mozote
A timeline of Mark Danner's account of the 1981 massacre at ...
Date: