22h 48min, dec 15, 1981 y - FMLN contacts Foreign Service Officer
Description:
What is described as "contacts of great confidence on the left" (assumed to be FMLN representatives) contact FSO Todd Greentree to report a massacre occurred. Greentree was invited to visit the site but was forbidden by Ambassador Hinton. (pg. 95)
Added to timeline: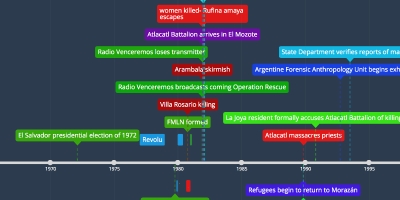 The Massacre at El Mozote
A timeline of Mark Danner's account of the 1981 massacre at ...
Date: