20h 53min, dec 12, 1981 y - survivors contact Socorro Juridico
Description:
Survivors hiding in the surrounding caves find the dead and contact Socorro Juridico, the human rights organization of the Archbishopric of San Salvador. Roberto Cuellar of Socorro Juridico contacts Reverend William Wipfler of the human rights office of the National Council of Churches in NY to report the massacre. Wipfler then attempts to contact Ambassador Dean Hinton for more information, Amnesty International and other human rights agencies, and Robert Bonner of the New York Times bureau in Mexico City.
Added to timeline: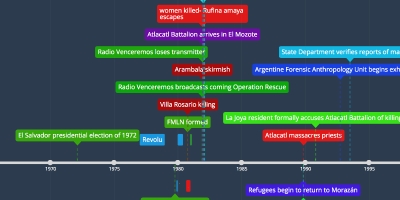 The Massacre at El Mozote
A timeline of Mark Danner's account of the 1981 massacre at ...
Date: