6h 21min, mar 15, 1993 y - UN publishes Truth Commission report, confirms massacre
Description:
In March of 1993, the UN published the Salvadoran Truth Commission's report, "From Madness to Hope: The 12-Year War in El Salvador". The report stated that over 500 were killed and all but 12 of the 143 identified remains were children. (pg 159)
Added to timeline: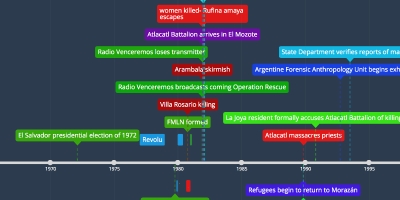 The Massacre at El Mozote
A timeline of Mark Danner's account of the 1981 massacre at ...
Date: