0h 46min, jan 16, 1992 y - Chapultepec Peace Accords end war
Description:
After three years of negotiations, El Salvador President Alfredo Cristiani and the FMLN signed the Chapultepec Peace Accords in Mexico City, formally ending the 20-year war. Among the stipulations in the agreement, the Army was to "purge all known human rights violators", reduce by half, and disband the Atlacatl Battalion. Similarly, a "Truth Commission" was created and tasked with '"investigating serious acts of violence that occurred since 1980 and whose impact on society urgently demand that the public should know the truth"' (pg 158).
Added to timeline: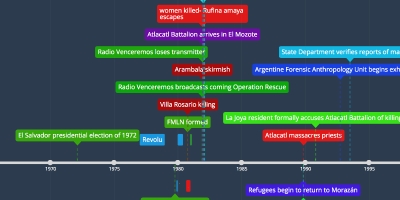 The Massacre at El Mozote
A timeline of Mark Danner's account of the 1981 massacre at ...
Date: