1h 5min, oct 26, 1990 y - La Joya resident formally accuses Atlacatl Battalion of killings
Description:
Pedro Chicas Romero, a resident of La Joya who hid in a cave during the massacre, files a criminal complaint with the Court of the First Instance. In the complaint, he formally accuses the Atlacatl Battalion of committing the massacres in El Mozote and the surrounding villages in 1981. During the court proceedings, Rufina Amaya Marquez gave an eyewitness testimony.
Added to timeline: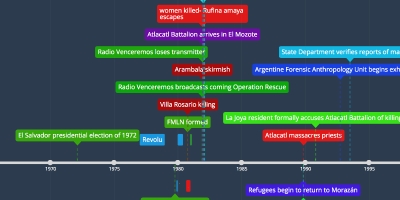 The Massacre at El Mozote
A timeline of Mark Danner's account of the 1981 massacre at ...
Date: