7h 48min, oct 22, 1984 y - Villalobos executes plan, Monterrossa killed
Description:
The guerrillas let several of their fighters get "ambushed" by the army and lose the Radio Venceremos "transmitter", knowing that Monterrosa desperately wanted to take the transmitter and destroy Radio Venceremos. The next day, after Monterrosa came to pick up his "prize" strategically left by the guerrillas and then boarded his helicopter, the guerrillas exploded the transmitter-and Monterrosa.
Added to timeline: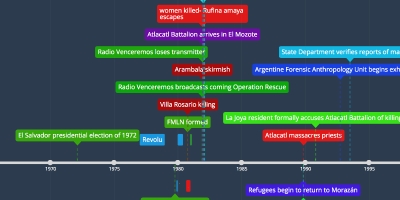 The Massacre at El Mozote
A timeline of Mark Danner's account of the 1981 massacre at ...
Date: