23h 39min, mar 27, 1982 y - El Salvador elections
Description:
In the March and April Constituent Assembly and Presidential elections, El Salvador elected the U.S. supported Alvaro Magana Borja as President. Following the election, the U.S. Administration altered its position on El Mozote from "could not confirm" to "there is no clear evidence to support" the killings. Congress also more than doubled military aid and economic support as well as began training Salvadoran troops in the U.S. (pg. 142).
Added to timeline: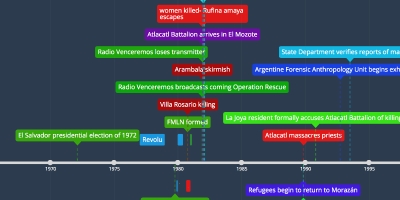 The Massacre at El Mozote
A timeline of Mark Danner's account of the 1981 massacre at ...
Date: