0h 27min, feb 17, 1982 y - U.S. Ambassador to Honduras cable reports killings
Description:
In a cable by the U.S. Ambassador to Honduras John Negroponte to the State Department, Negroponte describes how Embassy officials visited a refugee camp that held many refugees from Morazán. There, the refugees described "'a military sweep in Morazán between December 7-17 with large numbers of civilian casualties and destruction'" (pg. 136). However, this information was never released publicly.
Added to timeline: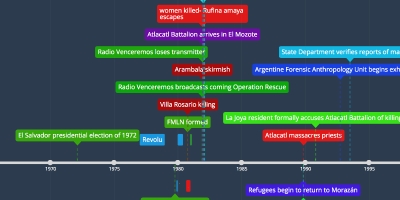 The Massacre at El Mozote
A timeline of Mark Danner's account of the 1981 massacre at ...
Date: