11h 57min, feb 2, 1982 y - Assistant Secretary of State testifies for certification
Description:
On February 2nd, Assistant Secretary of State for Inter-American Affairs Thomas Enders defends the President's certification to Congress, citing a lack of evidence regarding the responsibility of the deaths in El Salvador. In his testimony he cited the fact that Salvadoran newspapers never reported the deaths. However, these newspapers were all right-wing and generally focused on San Salvador.
Added to timeline: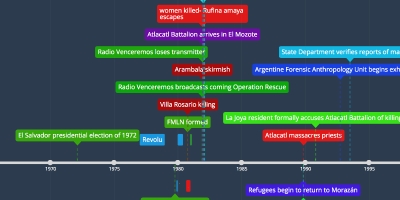 The Massacre at El Mozote
A timeline of Mark Danner's account of the 1981 massacre at ...
Date: