0h 15min, jan 31, 1982 y - Greentree sends cable to Washington
Description:
After the camp visit, FSO Greentree sends a cable summary of the "reported El Mozote massacre" investigation to the State Department. In the cable, he concludes that no evidence was found to confirm that government forces systematically massacred civilians during Operation Rescue nor that the number of civilians killed neared that of the reported numbers.
Added to timeline: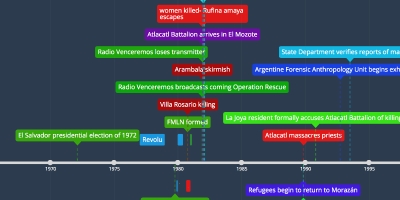 The Massacre at El Mozote
A timeline of Mark Danner's account of the 1981 massacre at ...
Date: