23h 53min, jan 29, 1982 y - Embassy officials attempt El Mozote visit; meet with refugees
Description:
During a visit with the El Salvadoran military, FSO Todd Greentree and Major John McKay of the defense attaché attempt to broach the topic of El Mozote with Colonel Flores Grijalba but are simply told that '"the soldiers were fighting for their lives in a dangerous war... and that some civilians may have been killed in crossfire"' (pg 105). Then, when they visit a refugee camp in Gotera and attempt to interview refugees, they receive little to no information, likely because of the government presence. However, McKay later stated that "he became convinced something had happened. 'You could observe and feel this tremendous fear"' (pg 108). Greentree also stated that, '"The interviews... convinced me that there probably had been a massacre"' (pg. 108). Finally, when Greentree and McKay tried to visit El Mozote, they were stopped by the Army. After that, the investigation was considered to be over.
Added to timeline: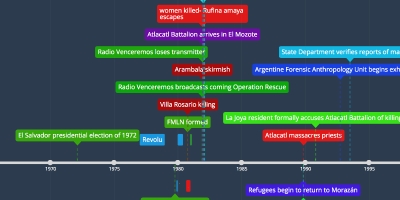 The Massacre at El Mozote
A timeline of Mark Danner's account of the 1981 massacre at ...
Date: