16h 48min, jan 15, 2018 y - Denmark will increase defense spending to counter Russia: PM
Description:
The Danish government expects to win backing for a substantial increase in defense spending next month, to counter Russia's intensified military activity in eastern and northern Europe, the NATO-member's prime minister said Monday.
Denmark last week deployed 200 troops to a UK-led NATO mission in Estonia aimed at deterring Russia from attacking the Baltic NATO members.
Russia annexed Ukraine's Crimea peninsula in 2014 and backs separatist rebels in eastern Ukraine in a war that has killed more than 10,000 people.
"Russia's behavior has created an unpredictable and unstable security environment in the Baltic Sea region," Prime Minister Lars Lokke Rasmussen said at a joint news conference with Latvian Prime Minister Maris Kucinskis on Monday in Riga.
https://www.reuters.com/article/us-northkorea-missiles-diplomacy/north-korea-meeting-to-stress-importance-of-sanctions-canada-idUSKBN1F42MQ
Added to timeline: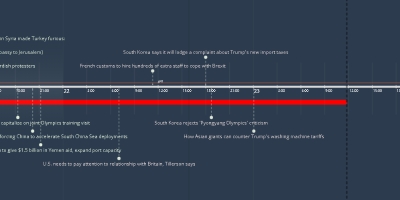 World Politics Time Line 2018
For more information, go to: http://visualtrackers.com/world...
Date: