4h 45min, jan 15, 2018 y - At least 20 dead as clashes shut airport in Libyan capital
Description:
The attack triggered the heaviest fighting in Tripoli for months, undercutting claims by the internationally recognised Government of National Accord (GNA) to have largely stabilised the city. The violence also undermines GNA efforts to persuade diplomatic missions to return there.
"This assault was aimed at freeing terrorists from Daesh (Islamic State) and al Qaeda and other organisations," it said in a statement. The attack had been repelled, and an operation to secure the area was ongoing.
https://www.reuters.com/article/us-libya-security/at-least-20-dead-as-clashes-shut-airport-in-libyan-capital-idUSKBN1F410L
Added to timeline: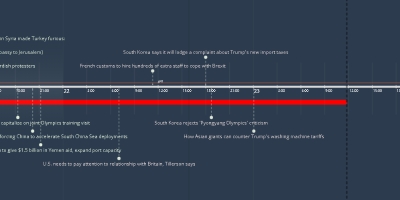 World Politics Time Line 2018
For more information, go to: http://visualtrackers.com/world...
Date: