21h 31min, jan 15, 2018 y - Qantas amends website references to Taiwan, other regions
Description:
China has stepped up efforts to police how foreign businesses refer to parts of China, or territories claimed by Beijing, including Taiwan and Hong Kong - even if only in pull-down menus on websites.
"Due to an oversight, some Chinese territories were incorrectly listed as countries on parts of our website. We are correcting this error," said Qantas in an emailed statement.
China's civil aviation authority told foreign airlines to check their websites and make any needed changes, but the campaign goes beyond just airlines.
To comply, Qantas has now deleted several lists that categorized destinations by country.
China last week suspended Marriott International's Chinese website for a week to punish the world's biggest hotel chain for listing Tibet, Taiwan, Hong Kong and Macau as separate countries in a customer questionnaire.
https://www.reuters.com/article/us-qantas-china/prodded-by-china-qantas-amends-website-references-to-taiwan-other-regions-idUSKBN1F5059
Added to timeline: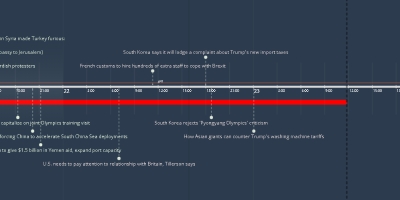 World Politics Time Line 2018
For more information, go to: http://visualtrackers.com/world...
Date: