9h 50min, dec 12, 1981 y - Army leaves El Mozote and conducts similar killings in nearby hamlets
Description:
After leaving El Mozote, the Battalion conducts a similar killings in Los Toriles. According to one witness, "'They just lined the people up against a wall and shot them with machine guns. The people fell like trees falling"' (pg 81). The Atlacatl Battalion then leaves and heads for the guerrilla stronghold in La Guacamaya.
Added to timeline: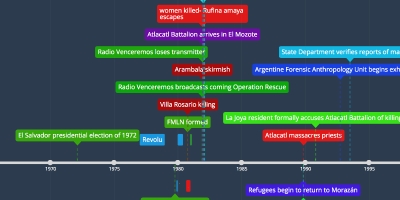 The Massacre at El Mozote
A timeline of Mark Danner's account of the 1981 massacre at ...
Date: