14h 11min, dec 11, 1981 y - women killed- Rufina amaya escapes
Description:
After killing the men, the soldiers begin raping the girls and then killing the women. It is at this point that Rufina Amaya, while in line waiting to be killed, escapes to the surrounding bush when the soldiers are momentarily distracted.
Added to timeline: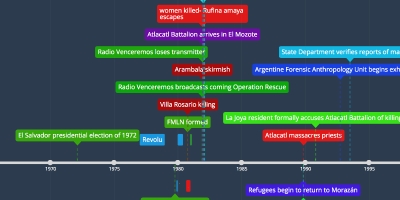 The Massacre at El Mozote
A timeline of Mark Danner's account of the 1981 massacre at ...
Date: