7h 36min, dec 9, 1981 y - Arambala skirmish
Description:
Reports of a guerrilla-army skirmish. A CIA report, of which Danner believes was solely based on army reporting, dictates that 30-35 guerrillas were killed. Other reports dispute those numbers, and Danner believes the Army may have actually suffered a defeat and created a "win" at El Mozote because of it. (pg. 57). The Army executes up to 20 civilian townsmen in Arambala from "lists" of suspected guerrilla-sympathizers.
Added to timeline: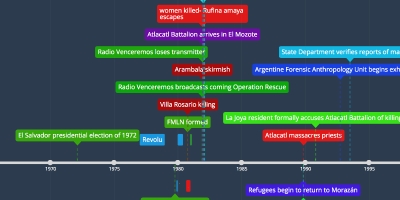 The Massacre at El Mozote
A timeline of Mark Danner's account of the 1981 massacre at ...
Date: